Writing Style
Our brand is more than what we say; it's how we say it. Below are the positioning and strategy behind the words we use, as well as key messages and sample copy. When we unite our voice, we maximize the impact of our message.
Institutional Style
The Division of Marketing & Communications uses the Associated Press Stylebook as a guide for journalistic copy. If you are writing a news release about the university, let AP be your guide.
For more formal, literary or academic writing, the Chicago Manual of Style is standard.
The Institutional Style Guide, also known as the UGA Editorial Style Guide, is intended to help achieve consistency, but style can always change with usage or context. These rules are not set in concrete. They may be adapted—or even ignored—when necessary for clarity, accuracy and precision.
Brand Positioning
Our brand positioning must answer four important questions in one succinct statement.
| | |
| --- | --- |
| Who are we? | The University of Georgia |
| What do we do? | tackles the most pressing issues of our time, |
| How do we do it? | by inspiring those who will lead, discover and serve |
| Why does it matter? | on a relentless pursuit to improve our world. |
Institutional Messaging Map
Our messaging map organizes key messages into a hierarchy to ensure that our communications are clear, consistent and compelling. The messaging map prescribes what we say. Our voice is how we say it.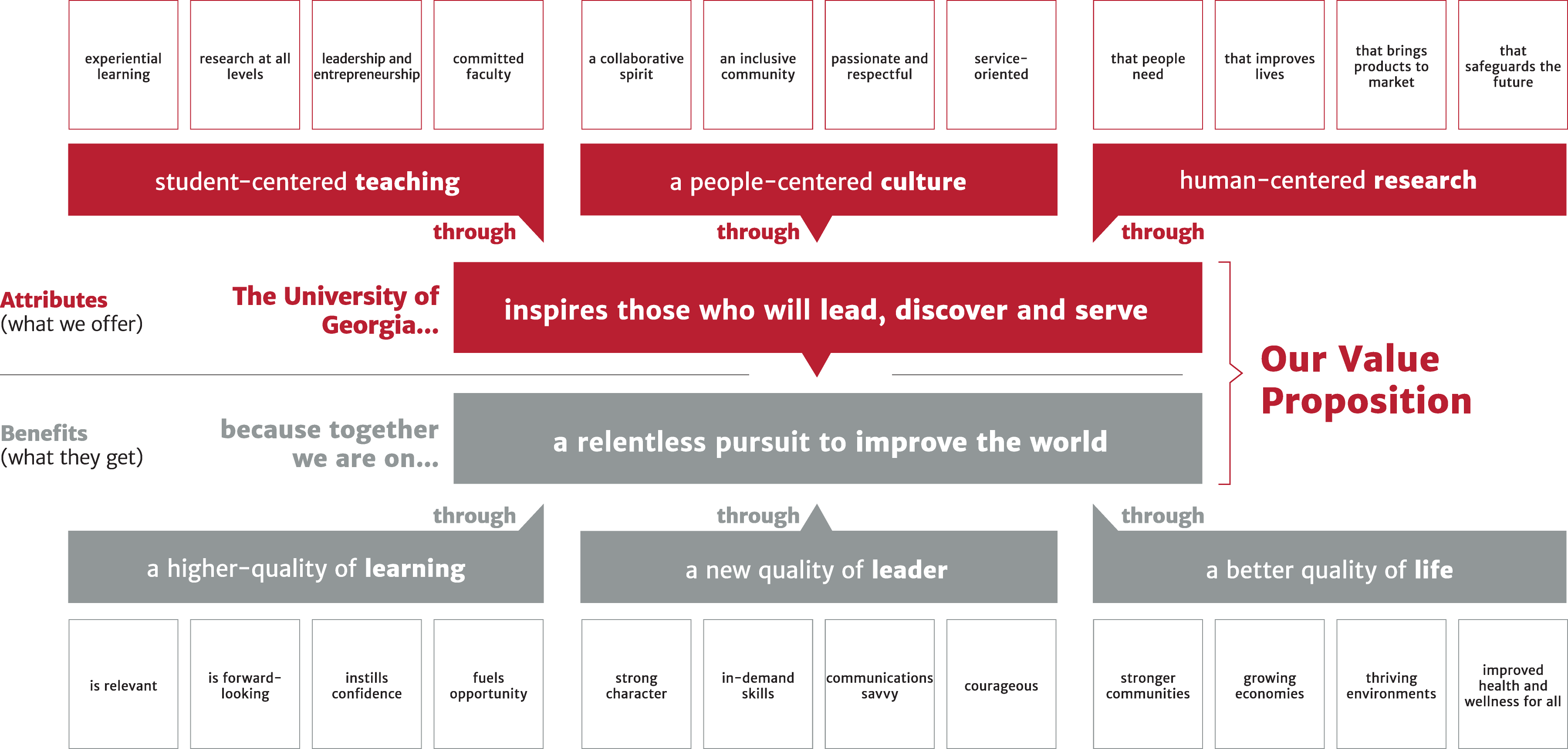 The University of Georgia inspires those who will lead, discover and serve through…
student-centered teaching
experiential learning
research at all levels
leadership and entrepreneurship
committed faculty
a people-centered culture
a collaborative spirit
an inclusive community
passionate and respectful
service-oriented
human-centered research
that people need
that improves lives
that brings products to market
that safeguards the future
…because together we are on a relentless pursuit to improve the world through…
a higher-quality of learning.
is relevant
is forward-looking
instills confidence
fuels opportunity
a new quality of leader.
strong character
in-demand skills
communications savvy
courageous
a better quality of life.
stronger communities
growing economies
thriving environments
improved health and wellness for all
Brand Narrative
This is the core of the University of Georgia story. This narrative guides our voice, supports our core messaging and supplies us with words and phrases we can use to build communications that reach and inspire all our audiences. It elevates our strengths, identifies what our audiences can expect from us and forms the basis of an ownable, unique identity for the university.
At the heart of all we do is heart.
And it's the love we share for our students, for the state of Georgia
and for the people of the world
that turns every potential possibility into something truly possible.

It's why we're solving global challenges,
Why we're serving communities and improving lives.
Why we give our students every opportunity to do more, achieve more and become more.

As the birthplace of public higher education in America,
we share a deep sense of duty and dedication.
We value excellence and life-changing innovation.
We embrace the challenges that push us past our comfort zones—into disaster zones, combat zones, end zones and every time zone.

Wherever people are suffering,
whenever communities are looking for effective leaders
and whenever the world cries out for better solutions,
we are there to answer the call to service.
It's more than our mission.
More than our passion.
It's our commitment.

A commitment to our future.
A commitment to each other.
A commitment to a better world.
Audiences
Audience
Constituents
Objective
The Georgia Family

Current students and families
Faculty
Staff and administration

Build alignment around Georgia's umbrella brand story and comprehensive offer.

The Extended Family

Alumni and donors
Residents and communities in the state of Georgia
Bulldog fans
Employers in the state of Georgia
Civic Leaders

Enhance the reputation of the university and strengthen engagement and advocacy for the institution beyond athletics.

The Future Georgia Family

Prospective students and their families

Enhance the reputation of the university and strengthen engagement and advocacy for the institution beyond athletics.
Generate greater visibility for Georgia, building stronger relationships and partnerships.

The Public

Peer institutions
Press and media
National and international employers
Research funders
Institutional donors
Others

Generate greater visibility for Georgia, building stronger relationships and partnerships.
Personality
Defining our brand personality creates tangible attributes as well as a starting point for how we write, speak, respond and communicate on behalf of the university. The following personality traits will drive the voice for all University of Georgia communications.
Committed
We are deeply invested, and our conviction — to our students, our state and our world — is unwavering.
Focused
We are intentional and doggedly determined, guided by a love of learning and clarity of purpose.
Ambitious
We are curious and innovative, tenaciously searching for better answers and more impactful solutions.

Nurturing
We are a loyal, inclusive and a bonded family committed to respect for each other and our world.
Spirited
We are hopeful and enthusiastic about the opportunity to help make a better future possible.
Enduring
We demonstrate integrity and excellence in everything, committed to creating a lasting impact through time-honored tradition.
Voice and Tone
Our message includes so much more than what we say; it is also how we say it. Through the words we choose and how we choose to employ them, we can maintain a consistent voice and contextually relevant tone to craft a story that feels personal and real.
Voice
Comes from our unique personality or individual style. It is a constant that becomes an expectation, regardless of who we are talking to or what we are saying. A compelling and recognizable voice gives our message greater permanence and credibility.
Tone
The general attitude or character we use to communicate in the moment. These characteristics give shape to our voice. The emotion you convey can change depending on the medium, audience, context and goal.
Voice Characteristics
Inspired by elements of the brand personality, voice characteristics define how the brand sounds.
Driven
We are dedicated and deeply invested in our mission. We are driven to succeed and focused on finding solutions.
Bright/Smart
We are leaders and world-class researchers. Our ideas change lives.
Confident
We are equipped, optimistic and ready to take on the future.
Sincere
We are all heart at UGA. Our love for students, the state of Georgia and the people of the world make anything possible.
Inspiring
We are forward-thinking, always innovating and hopeful for tomorrow.
World-Class
We place a high value on excellence and leading in every arena, setting the bar for others who look to UGA as the gold standard.
Dos and Don'ts
| Personality | Voice | Dos | Don'ts |
| --- | --- | --- | --- |
| Committed | Driven | Show motivation, drive, and enthusiasm. | Don't be pushy or over-reaching. |
| Focused | Bright/Smart | Be perceptive and clever. Demonstrate quick wit and understanding. | Don't be pedantic, all-knowing, blunt, or snarky. |
| Ambitious | Confident | Be optimistic and engaging with a sense or pride. Be persuasive. | Don't be pretentious, irrelevant, or unrelatable to your audience. |
| Nurturing | Sincere | Be intentional, nurturing, inclusive, and encouraging. | Don't be excessively instructive or patronizing. Don't be humorless. |
| Spirited | Inspiring | Be uplifting, curious and interested in ideas. Be enthusiastic. | Don't be self-righteous, pushy, or dull. |
| Enduring | World-Class | As the birthplace of public higher education in America, we show high regard for our time-honored tradition. We set a standard for excellence. | Don't be overly formal or stodgy. Don't be boastful. |
Key Strategic Brand Messages
A strategic messaging framework was created to identify and outline the university's priority messages. These strategic messages help us tell the comprehensive story of the university.
Strategic Message
Messaging Value Proposition
Core Message
Proof Points
Downloadable Assets
Research / Innovation

Through research and innovation, we are determined to promote stronger communities, healthier lifestyles and a more secure future.

Our research and innovation change lives.

Research that is centered on our impact on humanity
Competitively funded federal research
Faculty membership in national academies & other awards
Innovation District programs / initiatives
Diverse and inclusive research / innovation opportunities

Download

Academic Excellence
The University of Georgia is reaching even higher national rankings because of our academic programs and research. Our commitment to excellence makes us one of the best public universities in the nation.
We provide exceptional academic opportunities.

Best Colleges rankings
Incoming class profile
National & International student academic awards
CURO
Faculty membership in national academies & other awards
Small class initiatives

Download

Economic Vitality / Public Service
The University of Georgia is committed to a strong economy, successful businesses, workforce development and robust communities.
We improve lives across Georgia and beyond through our service and support.

Proud land-grant and sea-grant university
Statewide resource, with a focus on underserved Georgians
Industry partnerships across the state, nation and world
Technology Transfer
Business growth and formation through Small Business Development Center
Educating Georgia's workforce
Leadership development through the Vinson Institute

Download

Value / Experience
We consistently rank as one of the nation's very best public universities on measures of educational quality, value, and affordability because of the opportunities we provide to students both inside and outside the classroom.
Our valuable educational experiences prepare our graduates for extraordinary lives and careers.

Experiential learning opportunities (internships, study abroad, faculty mentored research, service learning)
Double Dawgs
Mentorships
Retention and graduation rates
Career outcomes
Value rankings
Georgia Commitment Scholarships
Hundreds of student life organizations
Diverse and inclusive culture

Download

Leadership / Vision
More than two centuries ago, the University of Georgia was founded on the revolutionary idea of public higher education in America – establishing an enduring legacy of transformative leadership.
Our visionary leaders inspire our state, our nation and the world.

First state-chartered university
ENTR program prepares student entrepreneurs
Bulldog 100
Peabody Awards (founder and home)
Georgia Groundbreakers (iconic leaders, innovators, and visionaries)
Student and Faculty individual accomplishments
Hiring initiatives

Download
Strategic Messaging Framework [PDF]
Boilerplate
The University of Georgia's boilerplate is standardized copy that unifies outward facing communications around core university brand pillars. A general institutional message provides a hub around which other copy can be built.
Audiences:
Academic / Institutional
Outreach and development relations
Government / Business Relations
Research and technological innovation
Educators, prospective students and families
Alumni, partners and fans
Uses:
Press releases
Marketing collateral and other related communications
Wikipedia content
Social media posts
General press statements
Marketing Boilerplate for Shorter Form Use
Chartered by the state of Georgia in 1785, the University of Georgia is the birthplace of public higher education in America—launching our nation's great tradition of world-class public education. What began as a commitment to inspire the next generation grows stronger today through global research, hands-on learning and extensive outreach. A top value in public higher education, Georgia's flagship university thrives in a community that combines a culture-rich college town with a strong economic center.
Full Boilerplate for General Use
Chartered by the state of Georgia in 1785, the University of Georgia is the birthplace of public higher education in America—launching our nation's great tradition of world-class public education. What began as a commitment to inspire the next generation grows stronger today through global research, hands-on learning and extensive outreach. A top value in public higher education and research, the University of Georgia tackles some of the world's grand challenges, from combating infectious diseases and creating a dependable food supply to advancing economic growth and strengthening cyber and global security.

As Georgia's flagship institution, the university is recognized for its commitment to student excellence through an emphasis on rigorous learning experiences both inside and outside the classroom, including hands-on research and leadership opportunities. These experiences contribute to the university's exceptional rates in retention, graduation and career placement. Among public universities, the University of Georgia has been one of the nation's top three producers of Rhodes Scholars over the past two decades. The university is also home to the Peabody Awards, the most prestigious prize in electronic media.

Scholars at the University of Georgia are committed to improving quality of life for all and are leaders in pivotal fields, such as vaccine development, regenerative medicine, plant sciences and more. One of the nation's top universities for technology commercialization, the University of Georgia ranked No. 1 in 2017 for total products reaching the market, with more than 725 products to date derived from university research. The University of Georgia has been in the Top 20 public universities in overall licensing revenue for 14 consecutive years, ranking No. 12 among public universities and No. 31 overall in 2017.

With its comprehensive reach, the university's 17 colleges and schools enroll more than 37,000 students and have produced over 315,000 alumni living worldwide. The University of Georgia's initiatives extend globally while touching every corner of the state, realizing the university's land- and sea-grant missions. The university's eight Public Service and Outreach units, which are among the strongest in the nation, help create jobs, develop leaders and address critical challenges. Research, outreach and extension serve as major drivers of economic and workforce development and spark successful partnerships that create new businesses and train the workforce of tomorrow.

The university's threefold teaching, research and service mission spans the globe with campuses in five Georgia locations, Washington, D.C., England and Italy, as well as partnerships in more than 50 countries on six continents.

Located in the Classic City of Athens, approximately an hour northeast of Atlanta, the university thrives in a community that combines a culture-rich college town with a strong economic center. The campus is home to nearly 800 registered student and service organizations. The university's athletic programs—21 varsity athletic teams competing as the Georgia Bulldogs—are among the most successful in NCAA Division I, and its English bulldog mascot, Uga, consistently ranks as one of the nation's most recognizable mascots.

At the University of Georgia, it's more than a mission. It's a commitment we make to our students, the state of Georgia and the world.
Editorial Headlines
For a News Release
Follow standard headline guidelines. This hed should be a quick way of getting to the point. Headline/subhead combos work great for longer headlines. This headline or hed/subhed combination will appear on the news release disseminated to media and posted on Newswise and, if appropriate, EurekAlert.
Headlines are often used as email subjects.
For UGA Today
These should be a rewritten/shortened version of the news release headline.
Top story: About 50 characters or about 7 words. These need a subhed of no more than 80 characters or 12 words max.
Lead story: Up to 65 characters, about 10 or 11 words max. This should be the Top Story headline with a couple of words added. The subhead does not appear on the home page unless changed to a different lead story format. This is done when the subhed will add vital information to the main hed.
For the News Panel on the UGA Homepage
Just 2 to 4 words, no more than 25 characters. It can be a label hed.
Columns
Columns staff will use the news release or top story headline and reword it if needed for space.
For feature stories on pages 1, 3 and 7 of Columns, a headline/dek combo is needed.
If no main headline is submitted with the story, a 2-3 word main headline will be added on the page layout and the news release or top story headline will be used as the dek.
When Columns staff are provided headlines that are too long—or too short—for the page layout, the headlines are rewritten to fit.
When pre-approved headlines on stories from certain offices are rewritten for Columns, this information is shared with the appropriate person in the President's Office.
UGA Today right rail email
These are about 15 characters per line, with 2 or 3 lines. These headlines are written on the spot when building the newsletter using as much of the UGA Today headline as possible.
General Guidelines
Regardless of what you are writing, you want to make sure your message—and our voice— rings clear. Follow these tips when you are creating content to ensure that the spirit Georgia comes through.
Know your audience.
Identify the audience you are trying to reach or nothing you say will reach them.
Focus on one thing.
Emphasize a single message. Include more and your readers will either fail to retain what they have read or stop reading.
Make it personal.
It is important to establish a personal connection in all our communications. Use the second-person "you" and "your" to engage and motivate.
Avoid jargon.
Write clearly and keep your language personable. Jargon has its place, but our communications are not it.
Stay out of the past.
Amazing things are happening at Georgia right now. Use an active voice to tell the world about it.
Give the reader something to do.
Always include a clear call to action.
Choose wisely.
Every communication need not contain every detail. Focus on what is both important and relevant—clutter just gets in the way of our message.
Incorporate some white space.
During reading, the eye needs places to rest, so the reader can digest information and understand the message. Work with a designer to ensure that your content is well organized and makes good use of white space.
Avoid clichés.
It is easy to resort to clichés. At first blush, they sound catchy. But they should be avoided. Use personality to our advantage by being original and engaging.
Do not force excitement.
If the message is not something we would yell, it does not deserve an exclamation point. Use this mark extremely sparingly or, better yet, not at all.