Visual Style
A visual identity is more than just a symbol, logo or icon. A well-crafted visual identity represents and reflects a university's culture, missions and services. It is the sum of all the visual elements used to distinguish itself from competitors.
Color
Using color appropriately is one of the easiest ways to make sure our materials reflect a cohesive Georgia brand. Beyond our logo, color is the most recognizable aspect of our brand identity. The elements of our palette have been given names that reflect their inspiration. Using color appropriately is one of the easiest ways to make sure our materials reflect a cohesive Georgia brand.
Color Palette
Primary
Our primary colors represent Georgia at the highest level and should be used in all communications.
Secondary
Vibrant
Our vibrant palette brings intensity and youthfulness to the visual brand. Use these colors sparingly. They should never be used for body text or headlines.
Glory Glory is best used for borders on Bulldog Red. Its intensity brings a vigorous energy to a piece.
Rich
Our rich palette can add energy to communications. These colors may not be appropriate for text in some applications.
Dark
Our dark palette adds sophistication and contrast to communications.
Use tints of Sanford at 30% and 50% only when you need to expand the neutral palette.
Neutral
Our neutral palette adds balance and warmth to the larger Georgia palette. Use tints of these colors at 30%, 50% and 75% to further expand the neutral palette.
Neutral colors may not be appropriate for text in some applications. For accessibility purposes on the web, do not use Creamery or Odyssey to set text on white.
Implementation
When using the Georgia color palette, it is important to maintain a sense of hierarchy, balance and harmony. Our color system is extremely flexible, but some restraint is necessary. Unique and exciting color palettes can be created by adding as few as one or two secondary colors. This chart is a guide for the mood each color conveys within a communications piece. Colors can range from formal to casual and from subtle to bold. On each subsequent color palette, there is a miniature version of this guide. Use your judgment for how bold or subtle, formal or casual the piece is, and then choose or create a corresponding palette.
Accessibility
Our digital properties and communications must adhere to Section 508 accessibility guidelines. Color overlays, including text on backgrounds, must provide sufficient contrast to be accessible for users with visual impairments. Tools like WebAIM provides a contrast checker to compute contrast ratios defined in WCAG 2.0.
Background Color
Text Color
White
Black
Arch Black

Yes

No

Bulldog Red

Yes

No

Chapel Bell White

No

Yes

Glory Glory

Yes

No

Hedges

No

Yes

Lake Herrick

No

Yes

Olympic

Yes

No

Sanford

Yes

No

Herty Field

Yes

No

Athens

Yes

No

Stegeman

Yes

Yes

Creamery

No

Yes

Odyssey

No

Yes
Sample Color Schemes
The following examples draw from the entire palette to show how color combinations can be developed successfully. Each is different but retains the character and emotion of the Georgia brand. Use the vertical banding as a guide to the ratios of each color. This is not meant to be a precise mathematical system but is intended to give an idea of relative use. Arch Black and Bulldog Red should dominate the ratio of colors used on any communications piece.
Typography
When it is used thoughtfully, typography becomes a powerful brand tool that can add visual meaning to what we communicate. Georgia's typography communicates clearly and cleanly, and is flexible for a wide range of situations.
Fonts
Primary Sans-Serif
Oswald is our primary sans-serif family and works best for headlines, subheads, and infographics.
Styles
Primary Serif
For more sophisticated situations, Merriweather, our serif font family, is available. It works best for headlines and body copy.
Styles
Secondary Sans-Serif
Merriweather Sans, our secondary sans-serif, performs well at small sizes and in longer-form text.
Styles
Secondary Serif
Georgia, our secondary serif, is an excellent font for body copy, documents, and dense text blocks.
Styles
Usage
Using type thoughtfully is crucial to making our designs look professional. Follow these tips to make sure our typography is consistent.
Letter and Line Spacing
Leading
Line spacing, called leading, is critical to setting professional-looking type that is easy to read. Leading should be set tight but not too tight. With our typefaces, text generally looks best with leading set slightly looser than the default.
Tracking
Correct letter spacing, called tracking, also makes the type easy to read. Outside of headlines, text should always be tracked slightly tighter than the default setting, and optical kerning should be used when it is available.
Sample Font Pairings and Configurations
Use the specifications shown in this section as a starting point when setting type in a new layout. These proportions are designed for print, but they apply to digital and environmental applications as well. Since our three typefaces pair so well, keep in mind that it is possible to substitute one for the other to create layouts that feel more formal or more casual.
"Commit To" Headlines
Always set "Commit to" headlines in Merriweather Bold and Trade Gothic.
Graphic Elements
Our brand has a number of graphic tools that work together to distinguish us from our peers and create a look that is instantly recognizable. When they are used consistently, these elements create continuity within our family of materials, across a variety of media.
Borders
Borders can be a sophisticated graphic element; using them thoughtfully can add elegance to any piece.
Intended Uses
Banners
Banners can function as an indicator for messaging or as a container for typography. Our banner element contains text and points the reader to important information.
Usage
Text Container
Use the banner as a container for headlines or other important information.
Indicator
The banner can also be used as an indicator to highlight important text or imagery.
Rotation
Banners may only be horizontal, pointing to the left or right. Do not rotate the banners to any other orientation.
Resizing
The pointed end of the banner should always maintain the same angle.
To scale the banner proportionally, hold down SHIFT and drag in Adobe Illustrator.
To shorten or lengthen the banner without changing the angle of the pointed end, drag the two anchor points on the flat end of the banner with the Direct Selection Tool (A).
Shield
The shield is derived from the arch-shield icon. Because it is directly tied to the logo, the shield is the most unique graphic element for the university.
Usage
Graphic Element
Use the shield to add visual interest to a communication piece, as a background element or as a highlighter or separator of information.
Container
Position the shield on top of an image. Select both the shield and image, right-click, and select "make clipping mask" (CMD + 7).
Use images that will have enough contrast with the background when placed inside the shield.
Rotation
The shield is derived from our logo. Never rotate it.
Scaling
The bottom portion of the shield should always maintain the same curvature.
To scale the shield proportionally, hold down SHIFT and drag in Adobe Illustrator.
To shorten or lengthen the shield without changing the curvature of the bottom portion, drag the two anchor points on the top end with the Direct Selection Tool (A).
Expanding Columns
The expanding column alludes to the pillars of the university's iconic Arch. Add energy to a piece by placing it between blocks of text or underneath important phrases for emphasis.
Scaling
Make sure to maintain the proportions of the column head and base.
Scale proportionally (SHIFT + drag in Adobe Illustrator) to the desired column thickness.
Use the Direct Selection Tool (A) to select only the anchor points at one end of the column. Hold SHIFT and drag to desired length. (Holding SHIFT keeps the column straight.)
Rotation
The column should only be used in a vertical or horizontal orientation.
Overlay
Keeping the column and their background the same color, apply the Multiply effect on the columns in Adobe Illustrator. If there is not enough contrast, adjust the tint slider.
Expanding for Text
Use the columns like the ends of a scroll, revealing text as they separate. Make sure to add equal amounts of space between the column, the text box and additional columns.
Underlining for Emphasis
Place a single horizontal column beneath a word or phrase for emphasis.
Photography
Photography is a compelling tool for portraying the diverse and dynamic nature of our community. Our photography captures the Georgia experience and connects with people in ways that words cannot. What we say can describe what we are doing to challenge convention and shape the future. But it is our photography that actually shows it.
University Digital Asset Library Public
Style
Our photography style is often driven by academics, but it should also feel lighthearted, confident and natural. Images can be broken down into four categories: portraiture, slice of life, detailed and historical.
Portraiture
Portrait photos should have an authenticity that comes from real emotion. Ensure that these shots always feel natural and not staged. Portraits can be shot in the subject's environment or in front of a backdrop. Our portraiture can range from lighthearted and warm to serious and heroic. It is important to maintain this balance in communications: Confidence can be depicted both with a smile and with more neutral expressions.
In many cases, our portraits should represent people who signify greatness, whether that is through our researchers or our students and their work. Crop in the image to make the subjects feel larger than life.
Slice of Life
People also play a key role in our cultural and academic photography. This is how we show our students, both inside and outside the classroom."Slice-of-life" images document peer-to-peer collaborations, along with faculty and student interaction. Balance these group shots with individuals who are engaged in their activity or area of study. Georgia students should be captured learning and developing their skills, being mentored by faculty and becoming leaders. And remember, it is important to show a diverse mix of students in an accepting and supportive environment.
Detailed
Object-based photography plays a significant role in our communications and in our photo library. These images serve as a window into our areas of study and the tools of our trades. Interesting and unexpected perspectives should be employed to make the images dynamic. Framing can vary from macro to wide-angle and everything in between—whatever helps to showcase the object in the best way.
Historical and Campus
The historical and campus category includes both historical and modern image assets. While we have wonderful historical photos, they are not appropriate for heavy use in most communications. However, they can prove extremely useful when talking about Georgia's history, heritage and traditions, as well as when communicating with alumni.
Images of campus like our Chapel Bell, the Arch, our architecture and special spots on our campuses are ideal for wide use in our collateral. Photos like these are incredibly important in distinguishing Georgia from other universities and developing a close relationship with all our audiences.
Usage
Layering Type and Graphic Elements
Text and graphic elements should never be placed over faces. Make sure that the text is legible over a photo.
Incorrect Usage
Stationery
The university logo is used on letterhead, envelopes, mailing labels and business cards. Departments and units should be inserted in the designated areas for each option. Small note cards and note pads intended for personalized, hand-written correspondence may use top-level or department-level logos.
Letterhead
Stock
Color
Finish
Neenah 24 lb. Classic Crest®
Avon Brilliant White
Smooth
Eggshell
Mail
Envelope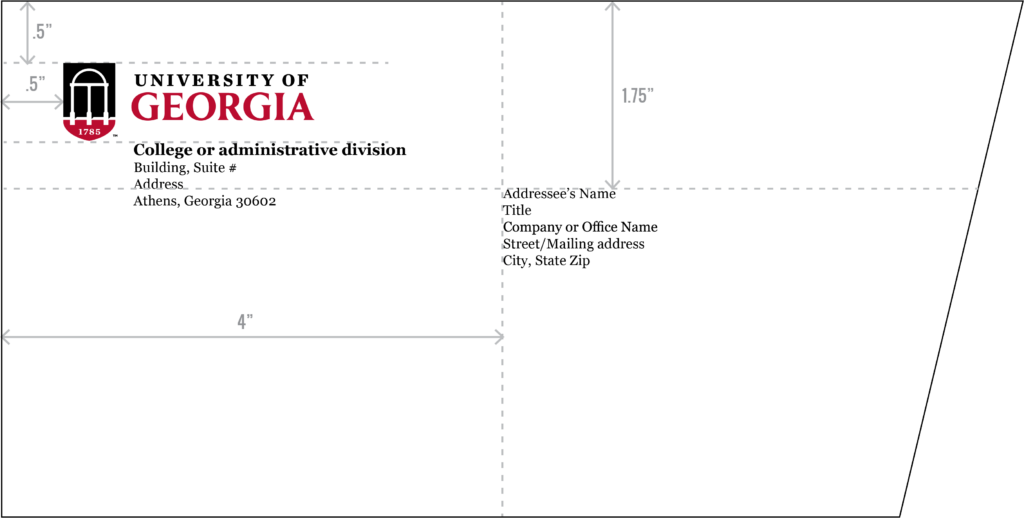 | Stock | Color | Finish |
| --- | --- | --- |
| Neenah 24 lb. Classic Crest® | Avon Brilliant White | Eggshell |
| Neenah 24 lb., 70 lb. Classic Crest® | Avon Brilliant White | Smooth |
| Neenah 24 lb., 70 lb. ENVIRONMENT® | PC100 White | Smooth |
Mailing Label
In order to maintain the university's nonprofit mailing indicia from the United States Postal Service, a consistent return address style must be used. The distance between the logo and the return address is equal to the height of the logo's wordmark. Any serif font may be used.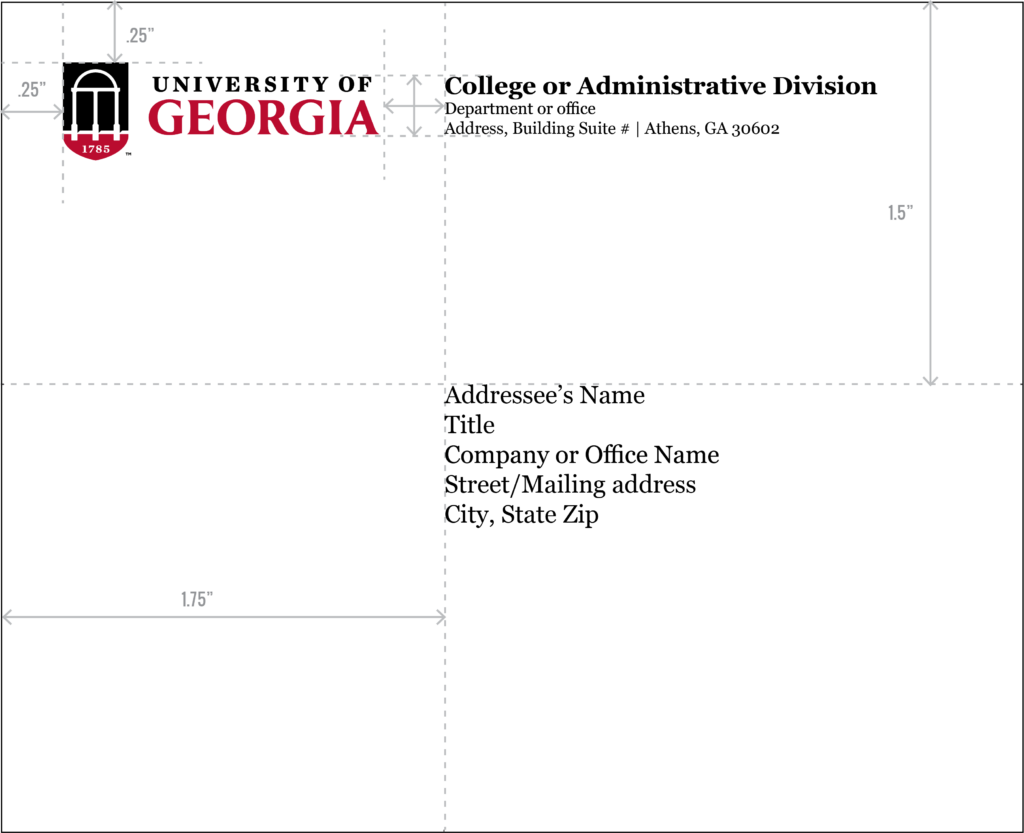 | Stock | Color | Size |
| --- | --- | --- |
| 'Crack and Peel' Label | White | 5″ × 4″ or 4 × 3.25″ |
Business Card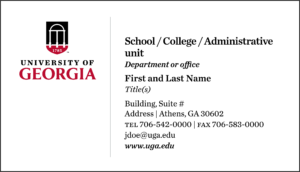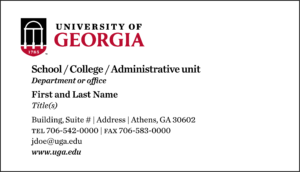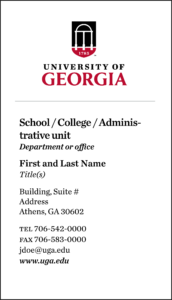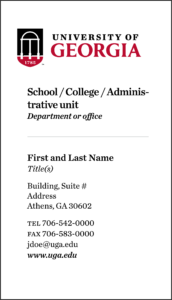 Signage
Clear Backgrounds
When installing vinyl signs on clear, translucent, or opaque backgrounds, the White (W) or Reversed Color + White (CW) logos should be used.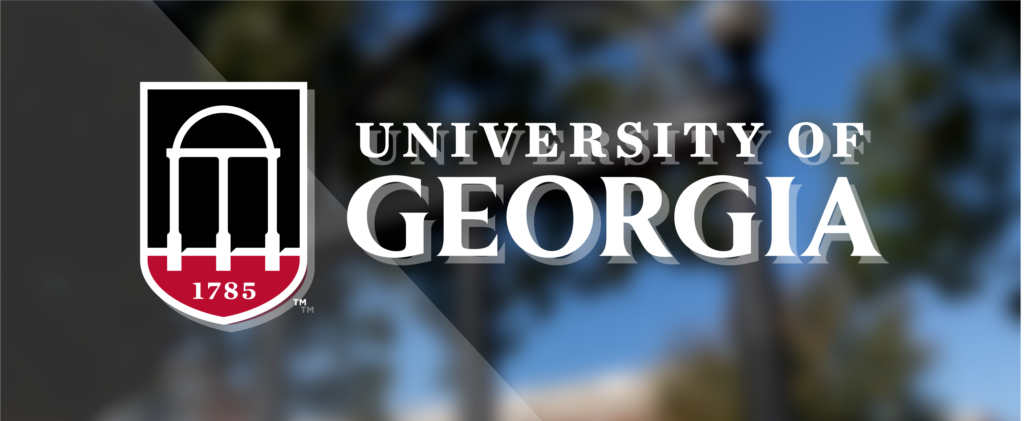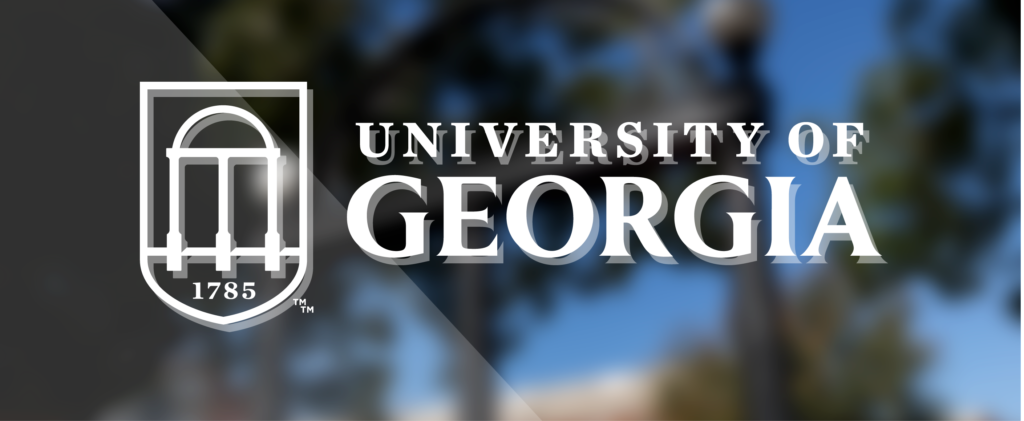 When using the Georgia Top Shield (GTV) configuration, the
white holding shape
extends to encase the Georgia wordmark.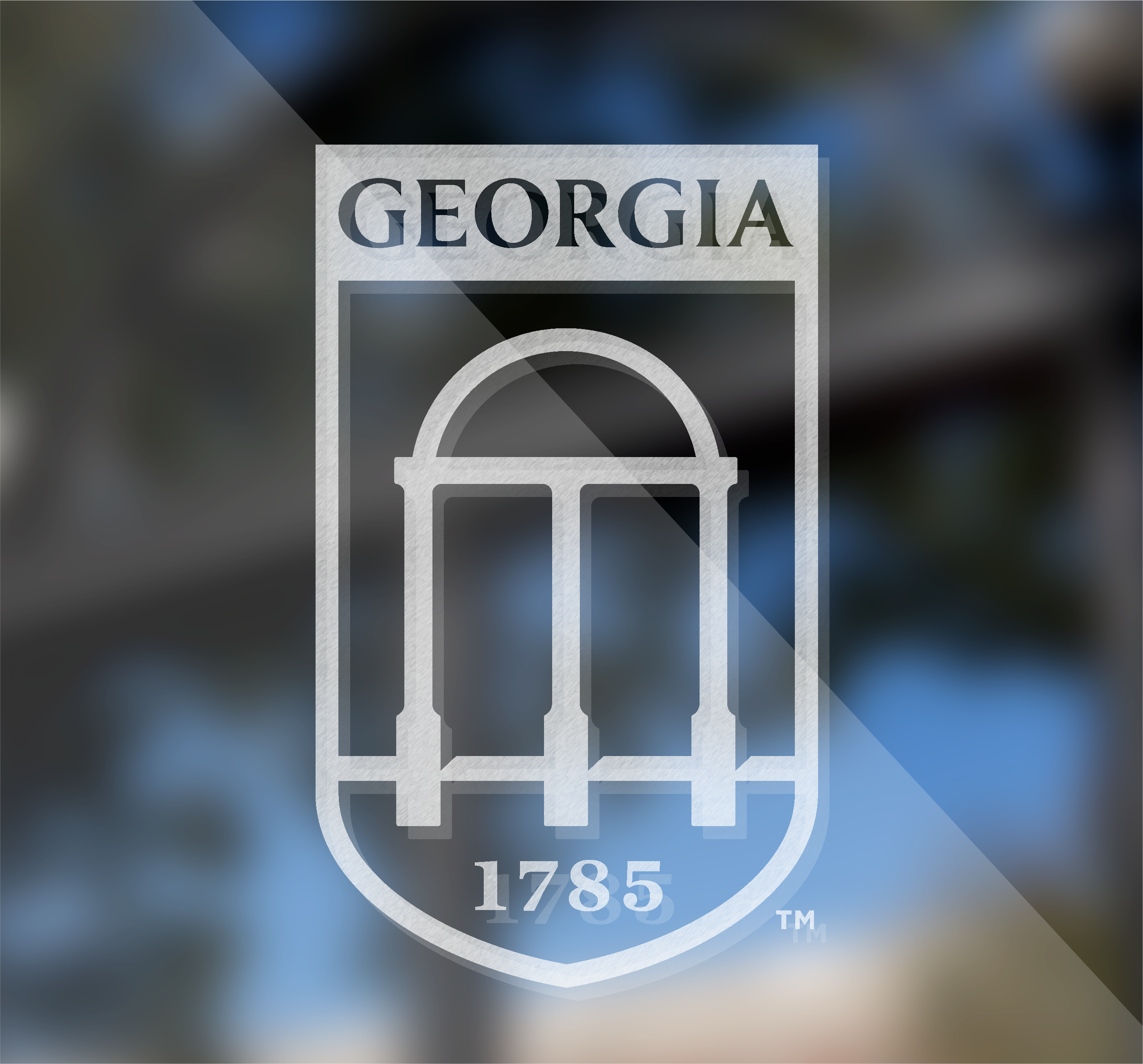 Vehicles
To maintain a unified presence across campus, the university logo is used on vehicles. Departments and units should be identified separately in the bottom area of the driver and passenger's door panels.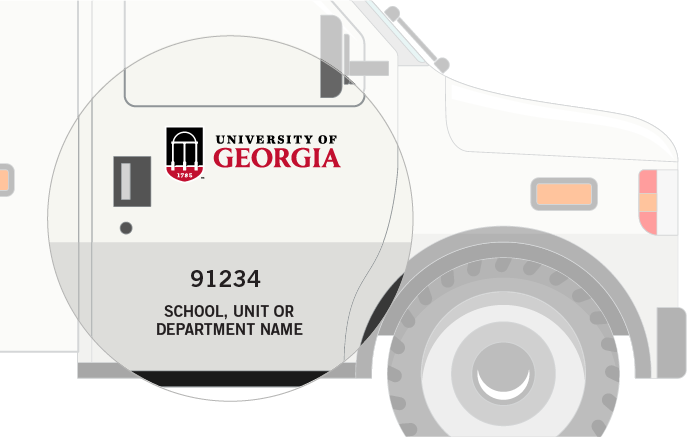 Specifications
Logo
Configuration: University Formal Full Color (GEORGIA-FS-FC) for white vehicles, University Formal Reversed Color + White (GEORGIA-FS-CW) for non-white vehicles
Size: 21.75″ W
Placement: Centered in top door panel area above side molding, driver and passenger sides
Vehicle ID
Font: Trade Gothic Bold No. 2
Letter Height: 2.5″
Placement: Centered in bottom door panel area below side molding, driver and passenger sides
Department Name
Font: Trade Gothic Bold No. 2; all caps
Letter Height: 1″ – 2″
Kerning: No less than −25
Placement: Centered under vehicle ID